Road work on Washington Place Friday Sept 26th to Wednesday Oct 1st weather permitting

Expect delays arriving to Washington's HQ and Ford Mansion due to roadwork and repaving of Washington Place. Give yourself more time to arrive for tours of the Ford Mansion. Call 973-539-2016 ext.210 for updates if needed
Mandatory All Employee Staff Meeting on Friday October 3rd

The Visitor Center, Wick House, Museum and the Ford Mansion will be closed Friday Oct 3rd from 9am to 11am for a mandatory all employee meeting. Tours of the Ford Mansion will resume at 11am. Sorry for the inconvience. Call 973-539-2016 ext.210 for info.
Washingtons Headquarters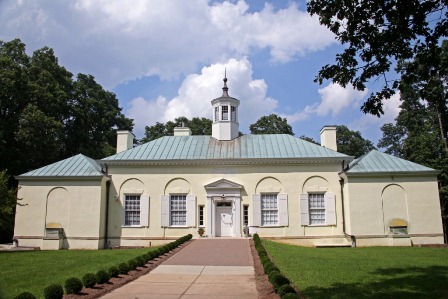 NPS
Washington's Headquarters Museum
The American Style Gallery
Home to an original Gilbert Stewart portrait of George Washington, this gallery highlights the material culture of eighteenth century America. From fine clothes and jewelry to eating utensils and musical instruments, the American Style Gallery brings to life the world in which George Washington lived.
The Military Gallery
America's independence was ensured through the bravery of its soldiers during the Revolutionary War. The Military Gallery preserves the memory of the war through its collection of muskets, pistols, and cannons, as well as portraits, maps, and other artwork. Of particular interest is the Furgeson Rifle, a highly advanced and exceedingly rare eighteenth century firearm. Also of note is the sword worn by George Washington during his first Presidential inauguration.
The Loyd W. Smith Gallery
Named in honor of one of the principal private contributors to the park's collection, the Smith gallery houses as number of pamphlets and other documents from the Revolutionary era. These original documents are evidence of the rich political culture flourishing in colonial America, and highlight the controversy over British taxation, the mobilization for the war, and early debates about slavery.
The Ford Mansion
An original eighteenth-centry structure built in 1774, the Ford Mansion is the centerpiece of Morristown National Historical Park. Originally owned by Jacob Ford Jr., a prominent Morristown businessman, the mansion served as George Washington's military headquarters from December 1779 to June 1780. Today, the mansion is fully furnished in eighteenth-century style, including several original pieces. Tours of the mansion are conducted hourly.
Did You Know?
The Grand Union Flag, also called Congress Colors, First Navy Ensign, or Cambridge Flag, had 13 red and white stripes and a blue field in the upper left corner with the cross of St. George of England and the cross of St. Andrew of Scotland. It was the first flag of the American Revolution.