Things To Do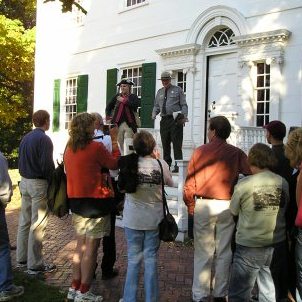 NPS
Washington's Headquarters Area
Washington's Headquarters Museum
Washington's Headquarters Museum is open daily from 9:30 am to 5:00 pm. Museum exhibits include The Military gallery, The American Style Gallery, and The Rare Documents Gallery, along with the 30 minute movie presentation "Morristown Where American Survived". The museum is also home to the Eastern National Bookstore
Ford Mansion Tours
The mansion was owned by Jacob Ford Jr. and was where General George Washington stayed during the winter of 1779-1780. Tours begin at the Washington's Headquarters Museum, just down the hill from the mansion, and are provided at 10am, 11am, 1pm, 2pm, 3pm, and 4pm.
Tours are limited to 20 visitors per tour. All tours are first come first served, If you have any question please call us at 973-539-2016 ext.210
Jockey Hollow Area
Jockey Hollow Visitor Center
The Jockey Hollow Visitor Center is open 9:30 a.m. to 5 p.m. Wednesday through Sunday and offers a soldier hut exhibit, a 16-minute video, restrooms and the park bookstore.
Wick House
The Wick House is open 9:30 a.m. to noon and 1 p.m. to 4:30 p.m. The Wick House closes for about an hour around noon each day. The house also is closed when formal school programs are conducted. Please call 973-543-4030 or 973-539-2016 ext. 210 to check for availability. The historic house features a self-guided tour with a park employee or volunteer in period dress.
Jockey Hollow Hiking Trails
There are over 27 miles of trails within the park for hiking and horse back riding. Times are posted at the entrances to the park and also listed here.
Junior Ranger
Pick up your Junior Ranger activity booklet in either the Washington's Headquarters Museum or the Jockey Hollow Visitor Center. More information on Junior Rangers can be found by Clicking Here.