Pets

Pets must be kept on a leash not to exceed 6 feet at all times. No pets are allowed in buildings.
Please clean up after your pet.
NOTE:
Summer heat is intense; pets left in vehicles - even for a short time - can suffer heat stroke and die.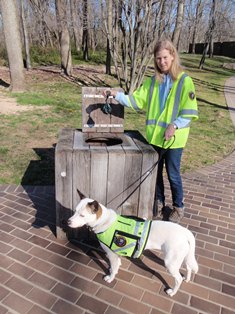 Bark Brigade
Recruitment: Dog walkers, we need your help! This is your opportunity to be pro-active in helping the environment. Morristown National Historical Park is seeking potential volunteers to spread the word about the Doggie Edition of Leave No Trace. Dog poop stinks and is a health hazard which is associated with coliform bacteria, salmonella, and giardia. Are you interested in becoming an important part to protect the Passaic Watershed by encouraging others to 'Pick up the Poop!? If yes, then please contact the Park Volunteer Coordinator either by phone 973-539-2016 x230 or by email to MORR_VIP@nps.gov.