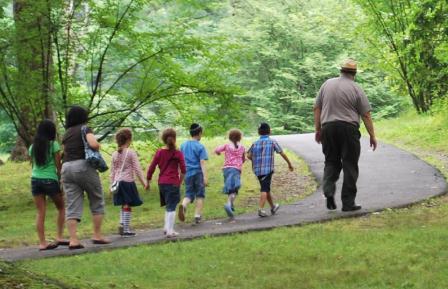 NPS photo
Special Junior Ranger Day Ranger Programs

Civilian Conservation Corps Hike During the Great Depression of the 1930's a group of young men changed Jockey Hollow forever. Join a Ranger on a 2.25 mile round trip hike on the Yellow Trail to discover how these men transformed Jockey Hollow into what we love today while only earning $30 a month! 10:00am at the Jockey Hollow Visitor Center.
Must Weft to Weave - One must weft a loom to pass a shuttle through the shed. Confused? Join a Park Ranger at the Wick House for this hands-on demonstration and learn the basics of weaving. 1:30pm to 4:00pm at the Wick House.
Meet a Soldier - What was the life of a Continental Soldier like? What equipment did they carry? Meet a Soldier in the Continental Army at the Soldiers Huts and find out about his equipment and lifestyle. 1:30pm to 4:00pm at the Soldiers Huts.