New Jersey Brigade and Cross Estate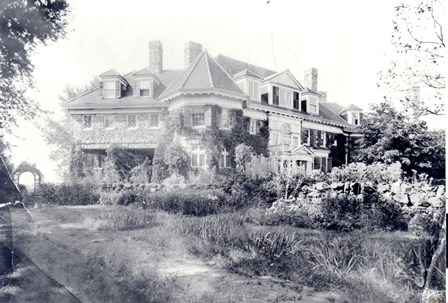 Cross Estate [Queen Anne Farm/Hardscrabble House] - In the late 19th and early 20th centuries wealthy New Yorkers built mansions in Morris and Somerset counties to enjoy the clean air and clean water during the long hot summers. Most of these millionaires maintained homes in New York City and places like Queen Anne Farm were just for use during the summer and weekends in the spring and fall. Local train lines allowed husbands to commute into the city for work while their families enjoyed the country.
John A. Bensel, an engineer, began construction on the property, which he named Queen Anne Farm, in 1903, building the mansion house, the chalet, the carriage house and the water tower. At various times Bensel worked as chief engineer and then commissioner of the New York City Department of Docks and Ferries. He was State Engineer and Surveyor for the state of New York and oversaw work on the New York State Barge Canal connecting Buffalo to Troy, New York. Just prior to his death he served as a consultant on the New York and New Jersey vehicular tunnel which later was called the Holland Tunnel.
After Bensel's death in 1929 the property was sold to William Redmond Cross, an investment banker. Cross distrusted the stock market's rise in 1928 and sold all his stocks and bought bonds. As a result, when the stock market crashed in 1929, Cross actually increased his wealth, enabling him to purchase Queen Anne Farm in 1929, renaming it Hardscrabble House. He enlarged the mansion house and carriage house, built greenhouses and a house for the gardener. Mrs. Cross laid out the formal and informal gardens near the mansion and brought exotic plantings to the landscape. The mansion was remodeled and reduced in size after Mr. Cross's death in 1940. Mrs. Cross used the house until her death in 1973.
The National Park Service acquired the property in 1975 so that the New Jersey Brigade Area could be physically connected to Jockey Hollow. The buildings on the property are not open to the public because they used as office space and housing for park employees. The restored formal and informal gardens on the property are open year round for public visits.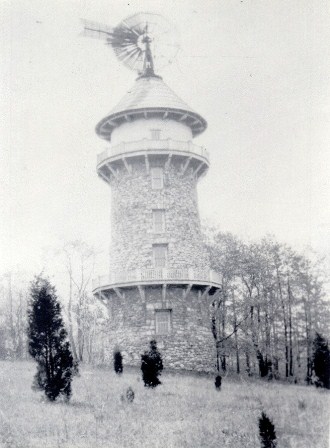 Stone Water Tower - This 1905 stone tower was used to supply the various buildings on the estate with water. Constructed over a well, water was pumped to the top of the tower by means of a windmill that was once located on top of the tower. A wooden water tank located in the upper wooden section of the tower provided water not only for the mansion, but also the chauffer's house, the gardener's house and the gardens. This interior of this structure is not open to the public.