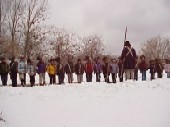 Elementary School Programs:

Educational programs begin November 2014 at Morristown NHP

September 16 is the first date reservation requests will be accepted.
Please read the attached document before making a reservation--click here.
Reservations are made only by filling out this form
Location: Jockey Hollow Unit of Morristown NHP. (This program does NOT include the Washington's Headquarters unit.)
Who: Elementary school classes studying the American Revolution--curriculum aimed towards 4th and 5th grade.
When: Tuesday thru Friday, November to May
Length of program: approximately two hours.
For information on the two programs offered, go to
http://www.nps.gov/morr/forteachers/classrooms/fieldtrips.htm
For further information, please contact Park Ranger / Education Specialist Thomas Winslow at
e-mail us