Curriculum-Based Education Program
Morristown National Historical Park offers curriculum-based education programs for 4th and 5th grade classes as well as for high school students.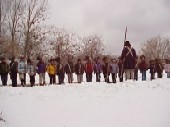 Elementary School Programs:

Educational programs begin November 2014 at Morristown NHP. September 16 is the first date that reservation requests will be accepted.
Please read the attached document before making a reservation--click here.

Reservations are made only by filling out this form.
Location: Jockey Hollow Area of Morristown NHP (this program does NOT include the Washington's Headquarters Area)

Who: Elementary school classes studying the American Revolution -- curriculum aimed towards 4th and 5th grades
When: Tuesday through Friday, November to May
Length of Program: approximately two hours
For information about the two programs offered, please go here.
For further information, please contact Park Ranger/Education Specialist Thomas Winslow by email at Thomas_Winslow@nps.gov.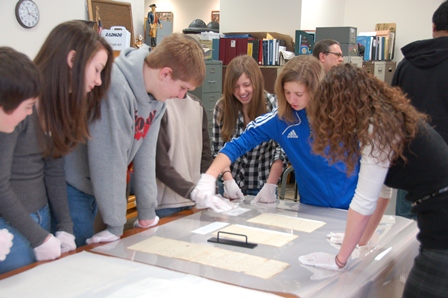 ---
High School
The primary goal of our seminar is to provide a skill-building workshop for students of history. We aim to guide students through source use and analysis activities that will lead students toward effective and meaningful primary source investigation. Our archives tutorial program provides students the unique perspective of working with authentic, unedited eighteenth- and nineteenth-century manuscripts from our own Lloyd W. Smith Archival Collection.
Primary Source Seminar: Information Packet(.pdf)
SEMINAR BLOG: The Primary Source Seminar Blog is the latest installment of our program. Our blog is an interactive space for us to connect with teachers in the community. We use this site to connect teachers with resources and to post information about upcoming events. Teachers are able to leave comments on our page that other readers and curatorial staff my address.