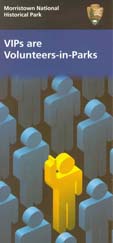 Morristown NHP Volunteer Mission Statement
The primary purpose of Morristown National Historical Park's Volunteer Program is to provide an opportunity which voluntary help and services from the public may be involved through a diversity of projects within a variety of locations to obtain knowledge for preserving the park's past, maintaining an active present and preparation for the future.
October 2013 to September 2014:
- 276 Volunteers
- 12,496 hours were donated
- Saving the National Park Service: $256,293.00
Thank you to all our Volunteers and their families!
JOIN OUR VOLUNTEER TEAM
WHO MAY VOLUNTEER?
Individuals (17 years of age and under must be accompanied by an adult), Families, Groups, Corporate
HOW MAY I VOLUNTEER?
Click to open and review the VIPS are Volunteers- In- Parks Morristown NHP brochure to find a Volunteer opportunity which interests you.
VIPs are Volunteers-In-Parks
Morristown National Historical Park brochure
Volunteer Application form
Please click on Volunteer Application to apply, our Volunteer Application is in Adobe Reader only.
Fill in the form, print and sign. Post mail your Volunteer Application to:
Morristown NHP
c/o Pamela Dobben
30 Washington Place
Morristown, NJ 07960
WHAT HAPPENS NEXT?
When your Volunteer Application arrives in the park, your Volunteer Application will begin a review process to match your interests to any Volunteer opportunity requested &/ or available. You will be notified whether we have a match or not. If we do have a match you may be requested to come in for an interview.
Please be advised, some Volunteer positions may require a background investigation. For additional information please contact the Volunteer Coordinator at 973-539-2016 ext.230 or e-mail us
Current Volunteer Opportunities