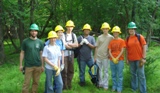 Student Conservation Association
SCA provides college and high school-aged students with hands-on conservation service opportunities in month-long summer projects. Up to eight students from around the country are paired with experienced SCA crew leaders to build trails and restore habitat in national parks and on other public lands. SCA's National Crews provide a formative experience, as members serve nature and challenge themselves, individually and as a team. In the process, the Crews get a lot of important work done. Learn more about National Crews here.

Eastern National
Eastern National has been a valued partner of the National Park Service since 1947. Its mission is to offer quality educational materials and services to park visitors and supporters, and to aid the National Park Service and other public trusts with income derived from these activities.
To accomplish its mission, Eastern National collaborates with National Park Service interpreters, historians, and scholars to produce many new products and publications each year, which cover cultural, natural, and American history.
These award-winning products and publications are offered in educational outlets at many of our National Parks, and other public trusts as well as on the Web at www.eParks.com. Part of the proceeds from these purchases help to aid our National Park. Since 1947, Eastern National has donated over $100 million to the National Park Service and other public trusts.