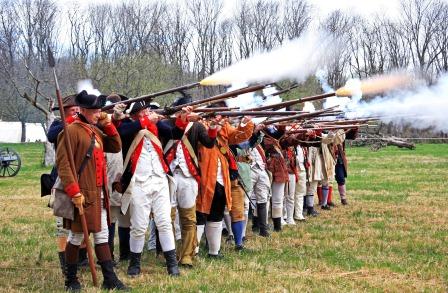 NPS/Dan Beards
The Continental Army encampment comes to life! Join us the weekend of May 16th and 17th as soldiers, their wives and their children return to Jockey Hollow for our Encampment Weekend. It's an event full of activities for the whole family.
Encampment Weekend will let you discover the experiences a soldier went through during the Spring of 1780 in Jockey Hollow. Throughout the encampment site you will be able to experience many parts of camp life. See cooking demonstrations, or participate in our Kid's Drill, where the whole family can learn to be colonial soldiers. Re-enactors will demonstrate various Revolutionary War military tactics and maneuvers throughout the weekend, and the best part is that all activities are free!
Date: May 16th and 17th
Location: Jockey Hollow
Time: 10am to 5pm
Address: 580 Jockey Hollow Road (approx.)
Morristown, NJ 07960

Admission: FREE!

For additional information call the Jockey Hollow Visitor Center at (973) 543-4030.
Encampment Schedule
10 am: Camp Opens: The Continental Army resumes their encampment of Jockey Hollow. Come and meet the soldiers and camp followers as they drill, prepare food and talk about how they survived the "Hard Winter."

11:00 am: Inspection of the Troops: Soldiers were inspected daily in the camp. Watch as the park historic weapons safety officer inspects the reenactors weapons and the soldiers go through the manual of arms.

Noon: Children's Drill: Kids can become new recruits and try their hands at the musket drill under the watchful eye of the drill sergeant at the Wick House.

1:00 pm: Military Drill Demonstration: Hear the crack of the musket as soldiers demonstrate infantry maneuvers of the Revolutionary War.

1:30 pm: Children's Drill: Kids can become new recruits and try their hands at the musket drill under the watchful eye of the drill sergeant at the Wick House.

2:15 pm: Court Martial of Troops: Become an actor and take part in the Court-martial play, where you decide the guilt or innocence of the accused.

3:30 pm: Military Drill Demonstration: Hear the crack of the musket as soldiers demonstrate infantry maneuvers of the Revolutionary War.

4 pm: Camp Closes: Thank you for joining us in celebration of Encampment Weekend 2015.

4:30 pm: Evening Historical Walk: Join a park ranger for a short one mile hike from the Wick House to the Connecticut Line and back. Hear about mutinies, murder and the various men and women who lived along the old Elizabeth Road in 1780.

Participating Reenactment Units:
2nd New Jersey Helms' Company
German Regiment
6th Pennsylvania Regiment
Lamb's Artillery and Morgan Rifle Companies
Mott's Artillery (Sunday only)

Schedule and Participant list is subject to change. Current as of 3/15/2015