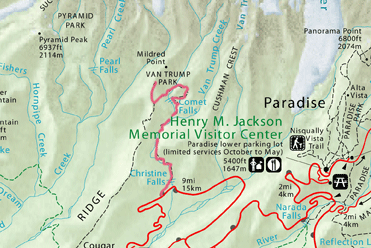 Trail Description:

Comet Falls

Trump Park

Distance, round-trip:

3.8 miles

5.6 miles

Elevation gain:

900 feet

2200 feet

Hiking time, round-trip:

2.5 hours

4 hours

Wilderness camps:

None

None

td>

One of the highest waterfalls in the park, Comet Falls was named because it resembles the tail of a comet, or so some thought. Van Trump Park honors P. B. Van Trump, who with Hazard Stevens, was one of the first people to stand on the summit of Mount Rainier.

The Comet Falls trailhead is located four miles northeast of Longmire on the road toward Paradise. Parking space is limited and often full. There is no more parking nearby, so have an alternate hike in mind.

For 1.9 miles the trail climbs steadily up hill until it reaches the base of Comet Falls. From there it switchbacks 0.8 miles uphill to the junction with the Rampart Ridge Trail. Van Trump Park is to the right, where the trail winds through the meadows until it dead ends in 0.5 miles.

Along the
Trail:

The 320-foot Comet Falls is a popular destination for many hikers. Those folks who continue to Van Trump Park enjoy views Mount Adams and Mount St. Helens to the distant south, while the Kautz and Van Trump Glaciers dominate views of Mount Rainier to the north. Look for marmots, pikas, and mountain goats on rocky open slopes in the area.


Backpacking:


There is no designated camp along this trail nor anywhere nearby. Permits are required for camping. Permits and current trail conditions are available park-wide from wilderness information centers, ranger stations, and visitor centers. Fires are prohibited. No pets on trails. Treat water before drinking.
Wilderness Permit

Reserve your Wilderness Permit for backcountry camping and climbing. Read More

Trail Conditions

Planning a trip into the Mount Rainier backcountry? Find out what the trails are like before you go. Read More

Visit Mount Rainier: Paradise

Paradise is famous for its glorious views and wildflower meadows. Read More