The gate to Paradise at Longmire closes nightly at 5:00pm.

Departing Paradise no later than 4:30 pm is recommended to safely drive down the hill before the gate closes. More »
Wilderness Camping & Climbing Reservations and Permits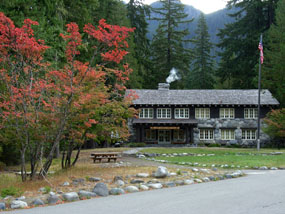 Mount Rainier has a reservation option for those wanting to camp in the backcountry. Reservations are not required but are recommended, especially for the busy months of July and August. The park issues about 70 percent of available wilderness camping space through a reservation system. The remaining 30 percent of wilderness camps are issued on a first-come, first-served basis. A wilderness permit is required for all overnight camping in the backcountry of Mount Rainier.
CHOOSE WHERE YOU WOULD LIKE TO GO:
Please note: we cannot reserve a front-country car campground on your wilderness itinerary. For information on car campgrounds, travel here.
MAPS
Travel here to see a list of online maps that will help you in planning your backpacking trip at Mount Rainier. Includes maps for hiking, backpacking, climbing and car camping as well as general park maps.
CACHING FOOD & FUEL
For those who are doing extened hikes, such as the 93 mile (150km) Wonderland Trail hike around Mount Rainier, there is an option to cache food at predetermined locations around the mountain. For more information on caching food and fuel, travel here.
Did You Know?

Floyd Schmoe was Mount Rainier's first full-time Park Naturalist. In 1923, he launched the park's "Nature Notes", a series of writings on various park-related topics. There are hundreds of editions of the notes in the park's collection, all of which are accessible through the Mount Rainier History & Culture webpage: More...