Nisqually to Paradise Delays

Road construction from the Nisqually Entrance to Longmire. Expect a 30-minute delay, Monday through Friday. More »
Ranger-led Programs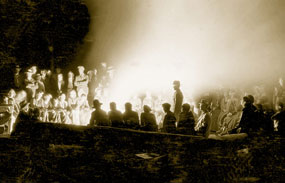 NPS Photo
Since the early days of the National Park Service, rangers have shared their knowledge through the presentation of interpretive programs--guided walks, talks, and campfire programs for visitors of all ages. Today, that long-standing tradition continues.
Please join the Mount Rainier interpretive staff for a variety of free programs, ranging from informal talks at park visitor centers to junior ranger programs for kids to evening campfire programs. Topics vary from day to day, and may include geology, wildlife, ecology, mountaineering, or park history. Most programs are available from late-June until Labor Day. Schedules are posted throughout the park, as well as in the park newspaper. Details and short descriptions of some evening programs are also available in the calender of events.
Interpretive Activities- lists the schedule of programs presented during summer 2014.
Additionally, interpretive staff offer guided snowshoe walks at Paradise during the winter season.

Outdoor Activities

Hiking, climbing, fishing... discover Mount Rainier! Read More

MountRainierNPS on Facebook

Join the Mount Rainier community on Facebook! Read More

Sister Mountain Curriculum Project

Mount Fuji in Japan is Mount Rainier's Sister Mountain. Discover the history, culture, and environment surrounding these two mountains through an extensive set of lesson plans for middle and high school students. Read More
Did You Know?

The Paradise meadows were once home to a golf course, rope tows for skiers, an auto campground, and rows of tent cabins. All of these activities damaged the meadows, as does walking off-trail. Management practices have changed over the years, and we now protect and restore our precious subalpine meadows.