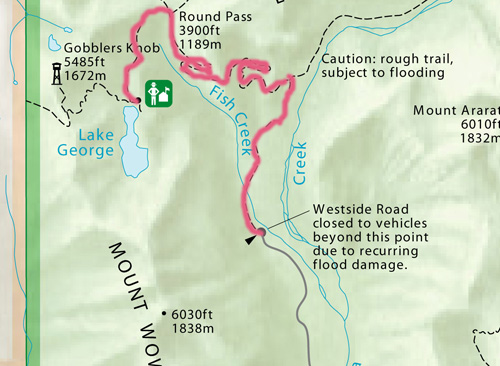 Trail Description:





Lake George

Gobblers Knob

Distance, round-trip:

8.8 miles

11.8 miles

Elevation gain:

390 feet

1585 feet

Hiking time, round-trip:

5 hours

7 hours

Wilderness camps:

Lake George

None

td>

Lake George is a pristine mountain lake, nestled in the northwest shoulder of Mount Wow. The rock outcrop of Gobblers Knob is situated at the north end of Mount Wow, a mountain whose name means "goat."

One mile east of the Nisqually Entrance is the Westside Road junction. Turn here and continue up the Westside Road to where it ends (approximately 3 miles from the start of the road). Hike up the closed portion of the road to Round Pass and the trailhead (approximately 4 miles).

The hike to Lake George is easy with a gradual incline. It is popular for families with small children. The hike up to Gobblers Knob Lookout is an additional 1.5 miles and much steeper.


Along the Trail:


Take time to enjoy the shoreline of Lake George and the summer wildflowers and wildlife while hiking to Gobblers Knob. From the lookout is a spectacular view of Mount Rainier and the Tahoma Glacier descending from the summit down the west slope of the mountain. On a clear day the peaks of Mounts St. Helens, Mount Hood, Mount Adams, and the Olympic Mountains are visible to the south and east. The fire lookout itself is worth more than a quick glance as it has been in use since the 1930s.


Backpacking:


Campsites at Lake George are popular. Permits are required for camping. Permits and current trail conditions are available park-wide from wilderness information centers, ranger stations, and visitor centers. Fires are prohibited. No pets on trails. Treat water before drinking.
Wilderness Permit

Reserve your Wilderness Permit for backcountry camping and climbing. Read More

Trail Conditions

Planning a trip into the Mount Rainier backcountry? Find out what the trails are like before you go. Read More

Visit Mount Rainier: Longmire

Longmire is located in the southwest corner of the park and is renowned for its historic "NPS Rustic" architecture... Read More