Nisqually to Paradise Delays

Road construction from the Nisqually Entrance to Longmire. Expect a 30-minute delay, Monday through Friday. More »
High Water & Inclement Weather Create Hazardous River Crossings

Several Wonderland trail bridges on the White River and Carbon River have been washed out by high water. Be advised that some crossings will need to be forded, and in some cases may be impassable while inclement conditions continue. More »
Fees & Reservations
---
Entrance Fees
The entrance fee is $15 for a private, noncommercial vehicle with a seating capacity of 15 or less; or $5 for each visitor 16 and older entering by motorcycle, bicycle, horseback, on foot, or for individuals traveling together as a non-commercial, organized group. These fees provide the visitor with a 7-day entrance permit for Mount Rainier National Park.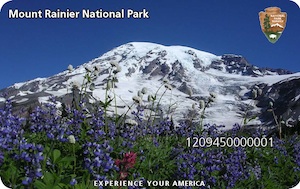 ---
Mount Rainier Annual Pass
The $30 annual park pass covers entrance fees for the pass holder and accompanying passengers in a single, private, non-commercial vehicle at Mount Rainier National Park. This pass does not cover camping fees and is non-transferable and non-refundable. This pass can be purchased at any entrance to Mount Rainier.

National Parks and Federal Lands Passes
Annual - Senior - Access - Military
These passes are available at any Mount Rainier entrance station. For more information visit the National Park and Federal Lands Passes website.

---
Commercial Tour Fees
These fees are only charged to commercial organizations, such as tour companies. This fee is determined by the seating capacity of the vehicle:
sedan with 1 to 6 seats = $25 + $5 per client

van with 7 to 15 seats = $75
minibus with 16 to 25 seats = $100
motor coach with 26 or more seats = $200
---
Other Fees & Permits
Camping - Learn more about camping reservations, regulations, and fees.
Climbing - A Climbing Pass is required for all who plan to travel above 10,000 feet or onto any glaciers.
Education Fee Waiver - Groups from qualified educational institutions are eligible for a fee waiver if they are coming to study park resources. Fee waivers must be applied for at least one month prior to your planned visit. Complete an educational fee waiver application and fax it to (360) 569-2911.
Special Use Permits - Most special events and activities held within Mount Rainier National Park require a Special Use Permit. These permits are issued and approved only after National Park Service staff determine that the activity will not impair park values, resources, and visitor enjoyment.
Scientific Research & Collecting Permit - A research permit is required to conduct research, including social science studies, in the park.


---
Please read this
legal notice
regarding payment of fees by check.


Did You Know?

Feeding wildlife invites aggressive animal behavior, road accidents, and harm to people. Feeding birds artificially concentrates nest predators, harming young songbirds. Feeding animals in the park is prohibited, and is liable to a $100 fine. Follow link to learn how to Keep Wildlife Wild: More...