Access to State Route 123 via Stevens Canyon Road in Mount Rainier National Park Closed Due to Rehabilitation Efforts on September 4, 2012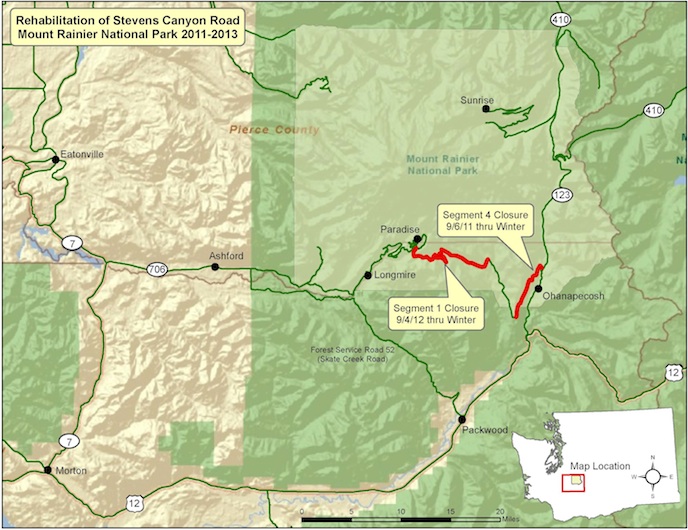 NPS
Date:
August 29, 2012
Contact:
Eric J. Walkinshaw, Project Manager, Mount Rainier National Park, 360-569-6713
Work is progressing well on the two-year Stevens Canyon Road rehabilitation project that involves resurfacing, restoration, and rehabilitation of Stevens Canyon Road and other related facilities, including bridges, tunnels, culverts, guard walls, retaining walls, turnouts, and the short Wonderland Trail section adjacent to Reflection Lake. The improvements are along two segments of the road, totaling 10.09 miles of the 19 mile road.
Up until September 4th, visitors should anticipate 20-minute delays, Monday - Friday, through each of the two segments of roadwork on Stevens Canyon Road. Bicyclists and motorcyclists are particularly encouraged to travel cautiously through the construction zones where gravel surfaces will periodically be encountered.
From September 4, 2012 until winter closure (typically in November), Stevens Canyon Road will be closed to through traffic (vehicles and bicycles) from just east of the intersection with the Paradise Valley Road to the east tunnel portal at Box Canyon (Segment #1 on map).
Visitors will be able to access Backbone Ridge, Box Canyon and adjacent trailheads via the east entrance near State Route 123 during the 2012 closure period but should continue to anticipate 20-minute delays Mondays - Fridays (Segment #4 on map).
After closure hikers may access the Reflection Lakes area from Narada Falls parking area via short connector trail south to the Wonderland Trail or north to connect to the Lakes Trail, Paradise, and/or the lower end of the Paradise Valley Road. Hikers wanting to access the Bench and Snow Lakes trail are encourages to utilize the Wonderland Trail, crossing the road east of Louise Lake and walk along the south side of the roadway.
Stevens Canyon roadwork is scheduled to extend until mid September 2013, with normal winter closures in 2012/2013, although no closures are anticipated during the 2013 season.
Stevens Canyon Road connects the east and west side of the park, extending for 19 miles from SR 123 at the east end to intersect with the Nisqually-to-Paradise Road at the west end, two miles south of Paradise. During the 2012 closure period, visitors are encouraged to access the Paradise area from the southwest via the Nisqually Entrance at east end of SR 706. Visitors traveling from the east via SR 410, SR 123, and/or US 12 who wish to visit the Paradise area are encouraged to seek alternate routes.
While construction and associated closures and traffic delays present an inconvenience, the rehabilitation work will not only improve the driving surface of the roadway, but ensure its longevity.
Mount Rainier National Park Superintendent Randy King and Federal Highway Administration, Western Federal Lands Highway Division officials announced last May that Phase 2 of the planned rehabilitation of 10 miles of Stevens Canyon Road was awarded to Tucci and Sons, Inc. of Tacoma, WA for $8,910,093.23 with a Notice to Proceed issued for project start on May 29, 2012 and a contract completion date of September 17, 2013.
Updated information on this project may be obtained by calling Mount Rainier National Park at 360-569-6713. Information on this project, as well as general park information, is also available on Mount Rainier National Park's website. 
-NPS-