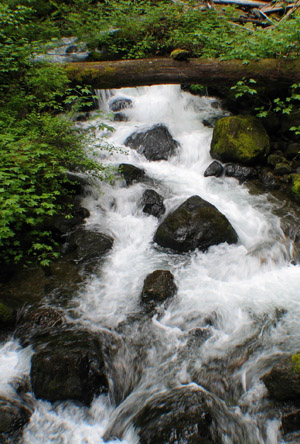 NPS Photo
Amphibians are good indicators of an ecosystem's health as they live in both terrestrial and aquatic areas and are sensitive to changes in environmental conditions. They also constitute a major portion of animal biomass in many habitats. In some forested areas, amphibians exceed the combined weight of all other vertebrates. However, amphibians have been suffering from serious population declines worldwide, which has a profound affect on forest ecosystems.
A park-wide survey of aquatic breeding amphibians was conducted during 1996-1999. Terrestrial amphibian surveys were conducted from 1999 – 2002, focusing on the Van Dyke's (P. vandykei) and Larch Mountain (P. larselii) Salamanders, both federally listed Species of Concern.
Given the worldwide decline in amphibians, and identified threats in Mount Rainier National Park, we are developing long-term monitoring programs to document the distribution and abundance of certain amphibian species that serve as good bio-indicators.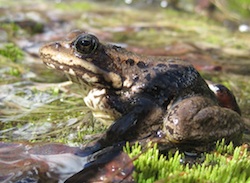 NPS
Cascade Frog
Rana cascadae
Female Cascade frogs can reach lengths of 3 inches (7.5 cm), while males are smaller, with a max length of 2.3 in (6 cm). They have brown to yellow-olive coloring and black spots. Habitat in park: old growth forest, meadows, wetlands & ponds.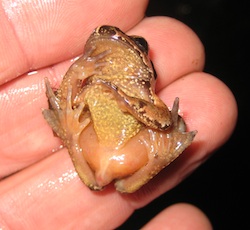 NPS
Coastal Tailed Frog
Ascaphus truei
Brown, reddish-brown to gray coloring with yellow and gray mottling. Males are easily identifiable by their "tails", which are actually cloacas used to fertilize female frogs internally. They are the most primitive family of frogs. Habitat in park: waterfall splash zones, stream banks.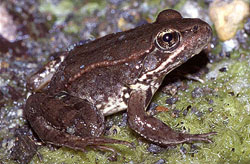 USGS
Red-legged Frog
Rana aurora
Gray to reddish-brown, with reddish coloring on rear legs and lower belly. Toes are only slightly webbed. Habitat: ponds, but frequently can be found away from water.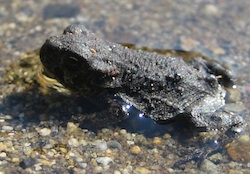 NPS
Western Toad
Bufo boreas boreas
2-5 in (5-13 cm) long, with large bumps on skin. Unlike frogs, toads have a toothless upper jaw and prefer sluggish walking to hopping. Two bulbous glands behind the eyes exude a think, white poison to deter predators. Habitat: wetlands, ponds.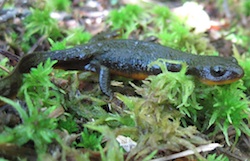 NPS
Rough-Skinned Newt
Tarisha granulosa
6-7 in (15-18 cm) long, greenish-black coloring and rough, warty-looking skin. Newts are a family of salamanders with toxic skin secretions. When threatened, they adopt a rigid posture, with upturned chin and curled tail. Habitat: ponds, marshes.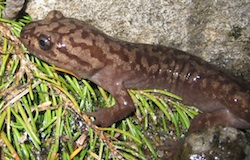 NPS
Pacific Giant Salamander
Dicamptodon tenebrosus
7-12 in (18-30 cm) long, brown-purplish coloring with black splotches.This salamander is large enough to eat mice, garter snakes and other salamanders. It is also the only salamander with a voice, able to emit a "yelp"-like call. Habitat: rivers.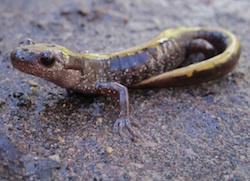 NPS
Long-toed Salamander
Ambystoma macrodactylum
4-6 in (10-15 cm) long, with a wide, blunt head and a yellow-greenish stripe along back. A wide ranging salamander, with habitat in subalpine meadows as well as forest, though always near water.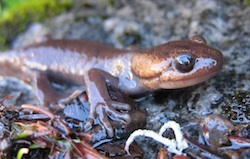 NPS
Northwestern Salamander
Ambystoma gracile
Olive-brown coloration on backs, with lighter coloration on belly. Habitat: ponds and lakes.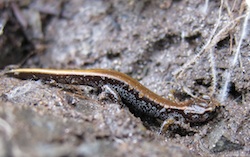 NPS
Van Dyke's Salamander
Plethodon vandykei
Dark coloring with a vivid yellow, green, or reddish stripe. This salamander has relatively short legs and tail compared to other salamanders. It breeds terrestrially but is found in stream sides and wet areas.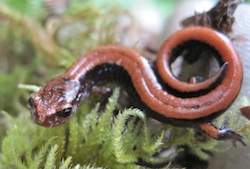 NPS
Western Red-backed Salamander
Plethodon vehiculum
3-5 inches (7.6-12.5 cm) long, brown or black coloring with full-length red, orange or yellow stripe on back. Red-backed salamanders do not have lungs or gills but absorb oxygen directly through their skin. Habitat: terrestrial, forest and rocky talus areas.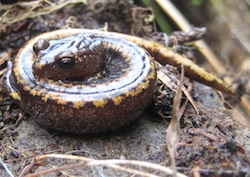 NPS
Larch Mountain Salamander
Plethodon larselii
Similiar in size as the Red-backed Salamander, with gold-flecked dark coloring and a reddish stripe on back. When threatened, the Larch Mountain Salamander coils and uncoils itself rapidly causing it to jump about. Habitat: terrestrial, rocky talus areas.