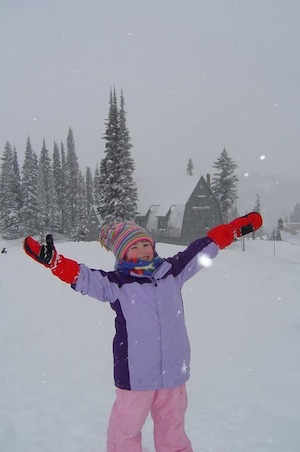 NPS Photo
Winter Fun!
Learn more about winter recreation activities at Mount Rainier, including:

Snowshoe walks - Ranger-led snowshoe walks on weekends and holidays are a great winter activity recommended for children ages eight and up with their families.

Sledding and sliding - Kids have a great time sledding at the snow play area of Mount Rainier. Located at Paradise there are three runs, including one just for the five and under crowd.

Winter Camping - Scouts and families test their camping skills in the winter at Paradise. Whether you are building a snow cave or setting up a tent. Check the winter recreation page for how to camp at Mount Rainier during the winter
Summer Sun!
Some trails are accessible for strollers and small children, including:
Nisqually Vista (Paradise)
Trail of the Shadows (Longmire)
Grove of the Patriarchs (near Ohanapecosh)
Emmons Vista (Sunrise).
Ask a ranger for additional suggestions.