The Sister Mountain Project Workshop - Mount Rainier 2010
In August of 2010 six Japanese teachers visited Mt. Rainier National Park for the Sister Mountain Curriculum Project and Teacher Exchange Program. During the workshop, the U.S. TRTs (teacher-ranger-teachers), presented curriculum they developed to introduce students to the natural and cultural values of both Mt. Fuji and Mt. Rainier. Both mountains were used as a lens to learn about history, culture, geography and the environment. Highlighting the similarities and differences from a scientific and human perspective, teachers from both countries gained valuable insight to teaching techniques, curriculum and student engagement.
During the cultural exchange, the Japanese teachers experienced first-hand the majestic beauty of the park. Lessons were presented around the mountain and opportunities for exploration were provided.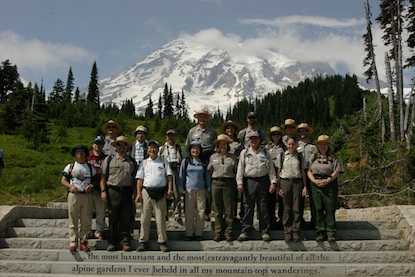 NPS Photo