Development Opportunities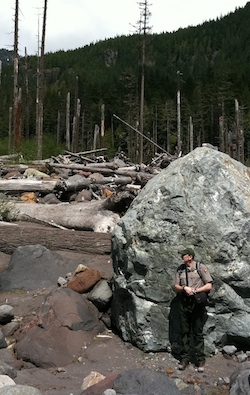 NPS Photo
GeoScience Teacher-in-the-Park Summer Internships
Mount Rainier National Park is pleased to announce an opportunity for classroom teachers to intern at the park during the summer season. In partnership with the National Association of GeoScience Teachers, two teachers will work alongside the Park Geologist and Regional Geomorphologist on a variety of research projects examining the park's landscape response to climate change.

Internship Announcement
Application
Application Deadline: Check back for Summer 2016 dates

For questions, please contact the Scott Beason, Park Geologist, by email.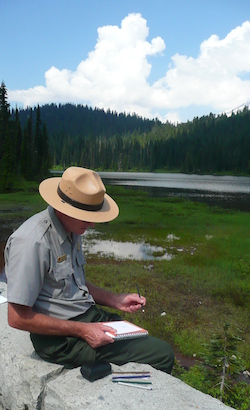 NPS Photo
Teacher-Ranger-Teacher Program
The Teacher-Ranger-Teacher (TRT) program provides opportunities for selected teachers to connect to resources in a national park by spending the summer working as a park ranger. The program focuses on teachers from schools with ethnically diverse student populations, who have had little or no experience with a national park, or little opportunity to explore the relevance parks can have in their lives or the lives of their students. The Teacher-Ranger-Teacher Program is a partnership relationship between the teacher, their school district, and the park and is managed through a formal agreement.
Teacher-Ranger-Teachers perform various duties depending on their interests and the needs of the park, including developing curriculum-based materials, presenting interpretive programs for the general public, staffing the visitor centers, helping to lead teacher workshops or taking on special projects.
Once teachers return to their schools, teacher-rangers bring their national park experience into their classroom throughout the school year. During National Park Week in April, teacher-rangers wear their NPS uniform to school and engage students and other teachers in activities that relate to their NPS experience.
The Teacher-Ranger-Teacher program provides a $3,000 living stipend for full-time work. Shared park housing is also provided.
Check back for Summer 2016 application and information flyer.
For more information, please email the park Education Specialist.

Other Opportunities

Teacher Workshops - Come spend a few lovely summer days at the park with United States Geologic Survey scientists and park educators to learn the "Living with a Volcano in Your Background" curriculum.
Volunteer - Join our team! Find volunteer opportunities from one-day to long-term projects and summer internships.
Science Learning Network - Go in-depth and behind the scenes to discover how scientists are protecting our northwest national parks.
Sister Mountain Curriculum Project - Mount Fuji in Japan is Mount Rainier's Sister Mountain. Discover the history, culture, and environment surrounding these two mountains through an extensive set of lesson plans for middle and high school students.