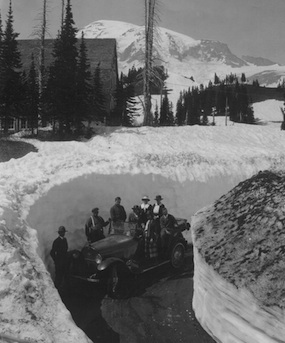 NPS Historic Photo
Humans have always had a deep connection to their land. This connection has translated into many different forms of appreciation of special areas around the world- generating unique cultural identities. The following lessons plans are designed to build a bridge between distant cultures by examining how humans have interacted with their environment, using Mount Fuji and Mount Rainier as the focus. The lessons contain historical, current events, language arts based activities, as well as artistic interpretation and inquiries centering around Japanese and American culture. While the target audience for these lessons is mainly grades 8-10, much of this material could be modified to suit both general education and honors students in grades 6-12.
In these lessons, students will use both primary and secondary sources to explore the connections of different groups to each mountain. They will interpret, analyze, and respond to documents, poems, stories, data, as well as first hand accounts. The literary selections cover time periods from ancient to modern. Some are complex and would require higher level reading skills, others are simple and would be suitable for a range of reading abilities. Students have the opportunity to create final products which range from extended writing responses, short answers, multimedia presentations as well as artistic creations.
Lessons:
Two Mountains, Two Peoples
This activity gives students the chance to explore and create a multimedia presentation of their own by undertaking a comparative study of Mount Fuji and Mount Rainier.
The scope is wide enough to allow for a variety of themes to be pursued.
36 Views of Mount Fuji and Mount Rainier
Students will have the chance to compare and contrast the original 36 views of Mount Fuji by the Japanese woodblock artist Hosukai and the contemporary Seattle artist Kristina Hagman. The culminating activity will give the student a chance to design and create their own woodblock print.

A Cultural Connection
Mount Fuji and Mount Rainier have oral and written traditions that chronicle their local geologic events. As these stories are read, students interpret and illustrate their similarities and differences. Students should note key vocabulary words, facts, figures, and events to outline the volcanic processes from the past.
Facing the Future
Analyzing a situation and making a reasoned decision by using document-based evidence is a keystone of critical thinking and helping students learn how to make and support their positions and decision. In this lesson, students have an opportunity to analyze documents and maps to help them participate successfully in a simulated public meeting based on a Document Based Question (DBQ).
Creating a Sense of Place
In this lesson students study historical figures to determine how people develop a sense of place and how sense of place has led people throughout history to fight for land preservation and protection. Using Mount Rainier and Mount Fuji as focal points, students develop their own idea of sense of place, whether it is their backyard, state, city park, etc.They use their sense of place to develop understanding for preservation and protection.Students develop a persuasive letter urging the protection of Mount Rainier and Mount Fuji.
Inspirational Writing
The human connection with mountains is rich in literature that celebrates the beauty and terror of the mountain environment. At times, mountains have inspired great poetry and fiction, sometimes with tragic themes, but more than anything, the human experience with mountains has produced gripping, real life stories of survival against the odds. Here students will have the chance to create their own inspiring adventure stories.