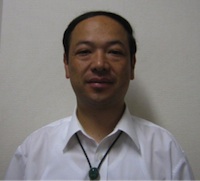 Tatsuyuki HORIUCHI
(
堀内 竜幸
)
Tatsuyuki, (Tacky) is a science teacher at Asumi Jr. High School in the Yamanashi prefecture.
He teaches science classes to Kindergarten through ninth grade students, and also volunteers for Kawaguchiko nature study class when he is not teaching physics. He spent three months in the U.S in Colorado, Washington DC, and San Francisco in a program with the Japanese Ministry of Education.
He is a nature lover, and especially enjoys aquatic insects and birds. He loves to spend his free time snorkeling, photography, and driving.