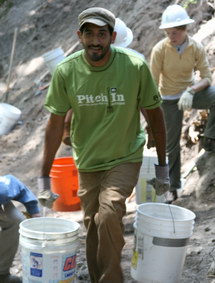 ---
A Special Thank You to Our Partners!
Mount Rainier National Park's volunteer program is assisted by many community partners. These groups help us recruit volunteers and lead projects, work with us to set up special volunteer opportunities and internships, and provide material support through fundraising, financial contributions, equipment, and advocacy. They help us to engage more people in park stewardship, and to accomplish more for the protection of Mount Rainier, than would be possible without their help, and we are grateful for their support. Visit these groups on the World Wide Web to find out how you can help them help Mount Rainier!
In addition, many other community groups, schools, churches, and businesses visit Mount Rainier on a regular basis to participate in volunteer projects. We're happy to set up something for you! Please call Volunteer Program Manager Kevin Bacher at 360-569-6567. We look forward to working with you!