Volunteer Opportunities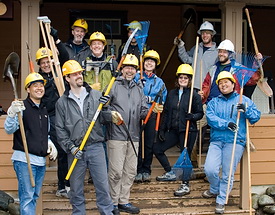 Mount Rainier has many opportunities for volunteer service for both individuals and groups, including single-day projects, full-time positions, and long-term commitments that can be adjusted to fit your schedule. Whether you're looking for a one-time experience, a residential position working alongside National Park Rangers every day, or an ongoing assignment that requires a flexible commitment of a few days per month, you'll find many opportunities to participate in the stewardship of your national park.
---
Many short-term volunteer opportunities are available! Even if you only have a day or two to contribute, we have plenty of opportunities for you to participate with us in the stewardship of your national park! Most projects occur during the summer months (between June and September), and are appropriate for either individuals and organized groups. To keep up with current projects:
Follow our Volunteer Blog or Facebook page for the latest news about our program.
Check out our volunteer project calendar.
Read through our complete list of current volunteer opportunities, listed below.
Sign up for our mailing list. We send out updates roughly once a month during the summer and as opportunities arise year-round.
If you represent a group that would like to volunteer, contact us to let us know what you're interested in, when you're available, how many people are in your group, and their age range. We'll do our best to match you up with a good project.
Thanks for your interest in helping out!
---
If you're interested in
long-term or recurring volunteer opportunities
, here's a list of projects for which we're currently recruiting:
Current Volunteer Opportunities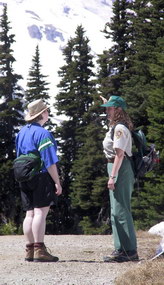 Mount Rainier National Park hires several internship positions every year, mostly during the summer, through the Student Conservation Association and the Geologic Society of America. SCA and GSA both provide a small living allowance, and sometimes educational credit. Mount Rainier National Park supplies housing.
Geologist-in-Parks internships for Summer 2012 are advertised in December 2011 and are usually due at the end of January. Visit the GSA website for information about how to apply.
For a list of internships currently advertised through the Student Conservation Association, visit the SCA website. Here's a list of some of the positions we've filled in recent years, and may fill again:
Backcountry Intern
Biology Intern (Lake Studies)
Citizen Science Coordinator
Climate Change Intern
Conservation Leadership Corps (high school crews)
Curatorial Assistant
Education Program Intern
Geomorphologist
Interpretive Media Intern
Junior Ranger Ambassador
Plant Propagation Intern
Preventative Search and Rescue Ranger
Public Safety Intern

Restoration

Intern
Transportation Intern
Vegetation Mapping Team
Visitor Services Interns (Ohanapecosh and Paradise)
Volunteer Coordinators (program assistant, trails, citizen science, maintenance, and interpretation)
Wilderness Inventory and Monitoring
Most internships are advertised and filled during the spring. Few positions are available during the winter.
Internships may also be available through local colleges like The Evergreen State College or Northwestern University. Teachers may be interested in our Teacher-Ranger-Teacher program.
Depending on available funding, we sometimes hire trail crews through SCA, EarthCorps, or the Washington Conservation Corps. Contact us to ask about current opportunities.