Fort Bridger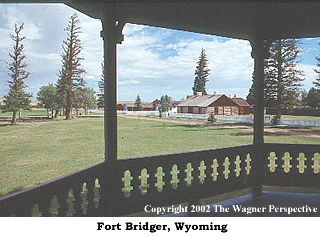 The Wagner Perspective
Fort Bridger - Fort Bridger, Wyoming
Jim Bridger established Fort Bridger in 1843 as a fur trading post. It was composed of two double-log houses about 40 feet long that were joined by a pen for horses. The Mormon Pioneer Company reached the fort on July 7, 1847, and spent a day there but considered its prices too high.
Thomas Bullock commented, "several brethren go to make trades with the French & Indians, but few succeeded, as they could not obtain sufficient for their goods." Here the main Oregon-California Trail turned north toward Fort Hall, and the Mormon Trail/Hastings Cutoff continued west to the Valley of the Great Salt Lake. The fort served as a Pony Express, Overland Stage and transcontinental telegraph station in the 1860s and was garrisoned by the U.S. Army between 1857 and 1890.
The fort has a museum/visitor center and a reconstruction of Bridger's log trading post.
Fort Bridger State Historic Site

Box 35
Fort Bridger, WY 82601
Tel: 307-782-3842
More Mormon Pioneer NHT sites:
Did You Know?

Fort Bridger was one of the few trading posts on the Oregon, California, & Mormon Pioneer trails where pioneer emigrants could stop for refuge to repair their wagons and restock their supplies. From here the trails split to the northwest toward Oregon, or to the west toward Utah and California. More...