NPS Passport Cancellation Stations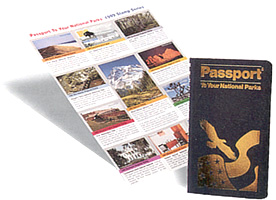 NPS Image
America's natural treasures-our national parks-are presented in one handy booklet with the Passport To Your National Parks program. This 104-page travelogue includes color-coded maps, pre-visit information, illustrations and photographs. Includes a list of every national park area in the United States. Spaces allow you to collect the series of commemorative Passport stamps issued each year.
To purchase a passport book, visit: http://www.eparks.com/store/
Where can you get your passport stamp cancellation?
For a complete list of all stamp cancellation locations go to: http://www.eparks.com/store/content/863/Passport-Cancellation-Locations/
National Trails Intermountain Region
324 South State Street, Suite 200
Salt Lake City, Utah 84111

***Due to field work, travel schedules, furlough, and personnel vacancies, this minimally-staffed National Park Service office may be closed without notice during regular work hours.

We sincerely apologize for the inconvenience.

Please contact us to request brochures or make an appointment.
Email: ntsl_interpretation@nps.gov
Call: 801-741-1012
Also, at these locations:
Did You Know?

Joseph Smith and several other high church leaders were jailed here and placed under the guard of local units of the Illinois State Militia. A few days later, on June 27, 1844, a mob of some 200 men stormed the Carthage jail and murdered Joseph and his brother, Hyrum Smith. More...