NPS Passport Cancellation Stations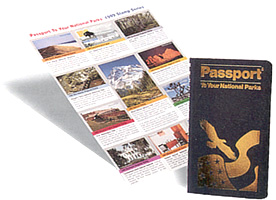 NPS Image
America's natural treasures-our national parks-are presented in one handy booklet with the Passport To Your National Parks program. This 104-page travelogue includes color-coded maps, pre-visit information, illustrations and photographs. Includes a list of every national park area in the United States. Spaces allow you to collect the series of commemorative Passport stamps issued each year.
To learn more about the passport program: http://passport.eparks.com/store/
To purchase an official passport please visit www.eparks.com
Where can you get your passport stamped for the Mormon Pioneer National Historic Trail?
For a complete list of cancellation stamp locations go to: http://www.eparks.com/ cancellations.pdf.
National Trails Intermountain Region
324 South State Street, Suite 200
Salt Lake City, Utah 84111

***Due to field work, travel schedules, furlough, and personnel vacancies, this minimally-staffed National Park Service office may be closed without notice during regular work hours.

We sincerely apologize for the inconvenience.

Please contact us to request brochures or make an appointment.
Email: ntsl_interpretation@nps.gov
Call: 801-741-1012
Also, at these locations:
Did You Know?

Mormons, as Latter-day Saints are popularly called, practice a unique religion that arose in 1830 from the teachings of church founder Joseph Smith, Jr. Early converts followed their prophet from New York to Ohio, Missouri, and Illinois. They were driven from each state by threats and violence. More...