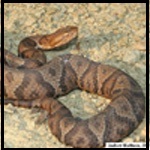 Andrew Hoffman
There have been sightings of the Northern Copperhead, which is a venomous snake, in the park. Be cautious of where you place your hands and feet. Please remember that all wildlife have a role in the ecosystem and are protected from harassment and harm.
Ticks are also found in the park. The small deer tick can carry Lyme Disease, and the dog tick can carry Rocky Mountain Spotted Fever. Long sleeve shirts, long pants, socks, and a hat offer good protection. Check your entire body after a visit to make sure you didn't take home any unwanted travelers!
Wild animals can also be infected with the rabies virus and can infect you or your pet if bitten or scratched. Remember that your pet should always be on leash. If you encounter an animal that is acting strangely report it immediately.