Photos & Multimedia
"There's an App for That!" The free Monocacy National Battlefield iPad app is available through the Apple App Store.
AUDIO / VIDEO PRESENTATIONS
Explore the rich history of the Monocacy region and the Battle that was fought here on July 9, 1864 through our series of audio presentations. These MP3-formated audio files provide detail that spans from prehistory to current events. Listen online, or download to your favorite player to bring on your next visit.
Check out our new video tours of selected historic buildings around the park. Also, the energy of recent park events is captured through staff video. Take a look!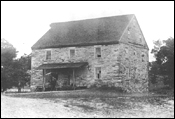 PHOTO GALLERIES
Historic Properties
Enjoy a stroll through history to see how the various resources that comprise Monocacy National Battlefield have changed through time. more...
Soldiers at Monocacy
View a collection of portraits of soldiers who fought at the Battle of Monocacy or passed through the area during regional campaigns. more...
Park Events
Throughout the year, Monocacy National Battlefield hosts events such as Park Day and the Battle Anniversary commemoration. View a collection of photographs taken at these events showing volunteers at work and Civil War soldiering on display. more...
Restoration, Rehabilitation, and Construction Projects
Projects at Monocacy National Battlefield include restoration and rehabilitation of the park's historic structures as well as construction of a new battlefield visitor center at Best Farm. more...