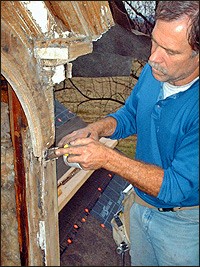 As a result of years of exposure to the elements, the Thomas House dormer windows had begun to fail, allowing damaging moisture to infiltrate the building. During its years in private ownership, numerous repairs and alterations had been undertaken, sometimes with detrimental results. Significant repair and rehabilitation was required to return the windows to an operational condition.
The dormers feature delicate dentils, rope moulding, and other details which had become obscured by years of repainting. A component of the dormer window project was a restoration and repair of these delicate decorative features, including removal of years of hazardous lead paint. The project restored the dormer windows to a fully functional condition, and also preserved these important historic details.
The Thomas House slate roof replacement project and dormer restoration was performed by the National Park Service's (HPTC). HPTC is headquartered at Monocacy National Battlefield in the historic Gambrill House.
To see photos of the Thomas House Slate Roof Replacement and Dormer Window Repair and Rehabilitation project, click on the links below.