The Facilities Management division at Monocacy National Battlefield is responsible for the upkeep of the park's 1,647 acres. The maintenance team works hard year-round to provide the best possible visitor experience. Facilities Management tasks include:
Visitor Experience
Special events setup

Trail and boardwalk maintenance

Wayside exhibit maintenance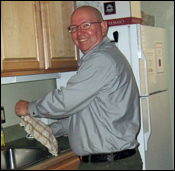 Landscape Upkeep
Erosion control and storm damage cleanup

Fenceline installation and repair

Groundskeeping, including turf and landscape maintenance

Hazardous tree removal from roads and visitor access areas

Tree-health pruning and removal
Facilities
Installation and upkeep of signage

Road maintenance including snow removal and gravel road-bed upkeep

Vehicle and equipment maintenance
Custodial
Building custodial tasks and maintenance including painting, HVAC repairs, and masonry repairs

Litter and recycling management

Pest management
Monocacy's Green Initiative
Monocacy National Battlefield is working hard to reduce the impact of park operations on the environment. Some of our "green" initiatives include:
Installing energy-efficient bulbs in our visitor center and offices, using motion-triggered lighting, and installing set-back thermostats.
Performing energy audits on our buildings to ensure peak performance by installing insulation and energy-conserving windows and doors.
Recycling paper, cardboard, plastic, and glass.
Replacing older fleet vehicles with hybrids and other more energy-efficient models.