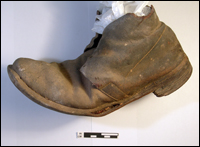 The stabilization project focused on preservation of existing historic fabric, but did not attempt to restore the building to a particular time period. Historic fabric was reused or repaired whenever possible, and when necessary, severely deteriorated or unsalvagable elements were replaced in-kind. With its major structural deficiencies addressed, appropriate routine and cyclic maintenance will ensure that the Best Secondary House is preserved for future generations.
The stabilization project resulted in a number of interesting finds. When the siding was removed for replacement and repainting, a small window - probably original to construction of the log second story - was revealed. In addition, a Union enlisted man's shoe - known as a brogan or "Jefferson bootee" - was discovered under the flooring in the attic, along with a canteen half and an Enfield ramrod. It is unknown how these objects came to be in the attic, but they provide a fascinating tangible link to the building's Civil War past.
The Best Secondary Dwelling preservation and stabilization project was performed by the National Park Service's (HPTC). HPTC is headquartered at Monocacy National Battlefield in the historic Gambrill House.
To see photos of the Best Secondary House stabilization and preservation project, click on the links below.