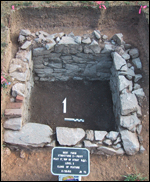 Privy, Cistern, and Icehouse
The privy measures approximately 6 feet by 7 feet, and is lined with dry-laid stone. Its precise date of construction is unknown, but it is similar to eighteenth-century privies documented at other sites in the area. The cistern is constructed of brick, and dates to the mid- or late nineteenth century. It was used to collect rainwater for household use. According to past occupants of the Best Farm, both the cistern and privy were used until the 1950s when indoor plumbing was installed in the main house.
On occasion, a backhoe was used to explore areas where hand excavation was not feasible. Oral traditions indicated that there was an icehouse in the northwestern area of the yard, which is currently covered by a road. Using aerial photographs, GIS, and landscape survey equipment, the general site of the icehouse was narrowed down and marked. A backhoe was then used to excavate trenches, revealing all four walls of the icehouse. The structure measures approximately 14 feet by 19 feet, and was likely constructed around the same time as the main house.