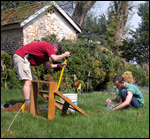 What Field Method Should Be Used?
Many field survey techniques are available to archeologists, so choosing the right one depends on many factors, including time, field conditions, research questions, the size of the area to be studied, the amount of funding available, and other things. At Monocacy, techniques employed have included pedestrian surveys and controlled surface collection, systematic metal detecting, gradiometer surveys (a gradiometer is a complex machine which detects magnetic variations below ground), backhoe trenching, shovel test pits (STPs), and excavation units (EUs).
Researchers conduct what are known in archeology as "Phase I," "Phase II," or "Phase III" investigations. Phase I research involves limited systematic testing of an area to assess what specific locations might be of interest for more detailed investigation. Phase II excavations are follow-up investigations at those areas identified in Phase I, and usually focus on determining their time period and use. Phase II investigations also determine whether an archeological site is eligible for listing on the National Register of Historic Places, an inventory of things that are of national historical significance. Phase III investigations are large-scale excavations aimed at full data recovery. Both Phase I and Phase II investigations have been undertaken at Monocacy National Battlefield.
All archeological investigations must be carefully structured and documented so that every aspect of the recovered data can be understood and analyzed. It is also important that methods and results be reproducible, to facilitate future research.