Kelso Depot Visitor Center hours

Kelso Depot Visitor Center is open Fridays through Tuesdays from 9 am to 5 pm, closed Wednesdays and Thursdays. The Beanery Lunch Counter is closed.
Watch for storm damage on all roads

Recent storms have caused flash flooding and damage to roads. Reduce speed and use caution when traveling through the park after storms. Call 760-252-6100 or 760-252-6108 for updates. Check our Current Conditions page for information on specific roads. More »
Zzyzx Road
Six miles southwest of Baker, Calif. on I-15, Zzyzx Road leads 5 miles south into Mojave National Preserve along the western shore of Soda Lake (dry).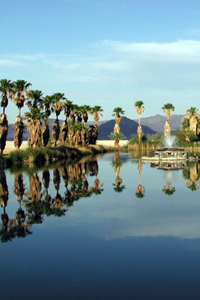 Rob Fulton
Zzyzx/Soda Springs
Self-guiding trail, wayside exhibits, vault toilets, non-potable water, picnic area.
Historically known as Soda Springs and later renamed Zzyzx (pronounced Zye-Zix), this oasis is home to the California State University Desert Studies Center. The buildings and pond were developed in the 1940s by Curtis Springer, who operated a health resort at the site.

Zzyzx is open to the public—stroll around Lake Tuendae and along the shore of Soda Dry Lake. If classes are in session, be courteous and do not disturb participants.
Did You Know?

A kaleidoscope of colors envelops the Mojave Desert after a winter of steady rains. Over 250 types of annual wildflowers grow in the Mojave. More...