Kelso Depot Visitor Center will be closed two days per week

Effective May 8, 2013, Kelso Depot Visitor Center in Mojave National Preserve will be closed on Wednesdays and Thursdays. The Visitor Center will remain open Fridays through Tuesdays from 9 am to 5 pm. More »
Zzyzx Road
Six miles southwest of Baker, Calif. on I-15, Zzyzx Road leads 5 miles south into Mojave National Preserve along the western shore of Soda Lake (dry).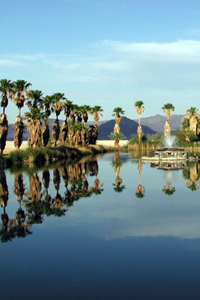 Rob Fulton
Zzyzx/Soda Springs
Self-guiding trail, wayside exhibits, vault toilets, non-potable water, picnic area.
Historically known as Soda Springs and later renamed Zzyzx (pronounced Zye-Zix), this oasis is home to the California State University Desert Studies Center. The buildings and pond were developed in the 1940s by Curtis Springer, who operated a health resort at the site.

Zzyzx is open to the public—stroll around Lake Tuendae and along the shore of Soda Dry Lake. If classes are in session, be courteous and do not disturb participants.
Did You Know?

Mojave National Preserve is a great place to explore by 4-wheel drive vehicle. Over a thousand miles of dirt roads are open for exploration. Driving off-road is not allowed. More...