Portable toilets at Kelso Depot Visitor Center

The water system at Kelso is shut down due to problems with the storage tank. Portable toilets are available; bottled water is available for purchase. Campers note-you won't be able to fill water bottles at Kelso until the system is repaired.
Telephone at Kelso Depot is not working

Kelso Depot Visitor Center telephone, 760 252-6108, is not working. For information on weekdays, call 760 252-6100. On Saturday, try calling 760 252-6104.
Kelso Depot Visitor Center hours

Kelso Depot Visitor Center is open Fridays through Tuesdays from 9 am to 5 pm, closed Wednesdays and Thursdays. The Beanery Lunch Counter is closed.
Youth Quail Hunt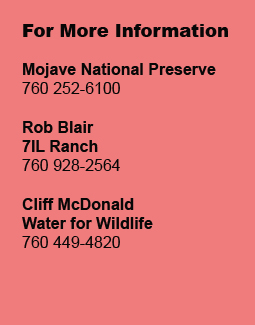 October 5 - 6, 2013
Who can participate?
- All youth of legal hunting age 16 and under who have completed a hunter safety class and have the appropriate Junior Hunting License.
- Parents or guardians are encouraged to attend but cannot hunt.
- Youth will be paired with an experienced hunter who will guide youth in tracking and harvesting these elusive game birds.

What activities are included?
- Hunt with a guide all day Saturday: exact schedule to be determined. Sunday hunting is on your own.
- Practice hunting and wilderness safety.
- Learn more about Gambel's quail and apply this knowledge in the hunt.
- Learn field care and dressing of harvested game.
- Tour the Safari Club International's Sensory Safari exhibit trailer.
- Rangers will provide talks, tours, and camp activities.

What about meals?
- Meals are provided for Saturday breakfast and dinner.
- Bring your own lunch for Saturday and all meals for Sunday.

Where?
- Black Canyon Group Campground at Hole-in-the-Wall, Mojave National Preserve
- Directions: 20 miles north of I-40 on Essex and Black Canyon Roads.
- No hookups; water and pit toilets available.

How do I sign up?
- Space is limited to the first 50 youth to register. Late registrants will be placed on a waiting list.
- Additional information will be sent to successful registrants.
Did You Know?

The railroad town of Kelso in Mojave National Preserve was named in 1905 by railroad construction workers. Two men placed their names in a hat, along with that of a third who had just moved away. The name drawn from the hat was that of John H. Kelso, the man absent from the drawing. More...