Portable toilets at Kelso Depot Visitor Center

The water system at Kelso is shut down due to problems with the storage tank. Portable toilets are available; bottled water is available for purchase. Campers note-you won't be able to fill water bottles at Kelso until the system is repaired.
Telephone at Kelso Depot is not working

Kelso Depot Visitor Center telephone, 760 252-6108, is not working. For information on weekdays, call 760 252-6100. On Saturday, try calling 760 252-6104.
Kelso Depot Visitor Center hours

Kelso Depot Visitor Center is open Fridays through Tuesdays from 9 am to 5 pm, closed Wednesdays and Thursdays. The Beanery Lunch Counter is closed.
Nipton, Ivanpah, & Lanfair Roads
Eleven miles south of Primm, Nev., Nipton Road begins at I-15 and passes through Nipton, Calif., 11 miles east. Ivanpah Road (only the 10 northernmost miles paved) heads southeast of Nipton Road, through the Ivanpah and Lanfair valleys, eventually connecting with the paved Lanfair Road and the Fenner Valley. Together stretching 46 miles, Ivanpah and Lanfair roads connect the northern preserve boundary (bordering Nipton Road) with the southern near Goffs, Calif.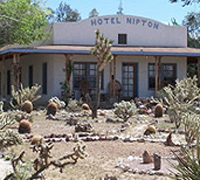 www.nipton.com
Hotel Nipton
Privately-operated hotel and store.
Built in 1910, this charming hotel on the preserve's northern boundary reflects the railroad, ranching, and mining history of the small community at Nipton.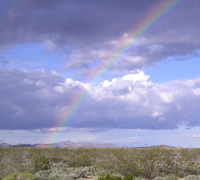 NPS photo
Lanfair Valley
No signs or services.
South of the New York Mountains along Ivanpah and Lanfair roads, this high valley shelters an impressive Joshua tree forest and was an early ranching and homesteading center. From 1893 until 1923, the Nevada Southern Railway ran up the valley from Goffs, Calif., providing services to homesteaders and ranchers in the valley and to miners in the mountains beyond. While little evidence remains of the homesteads that once dotted the valley, tracts of private property still exist. Please respect the rights of landowners.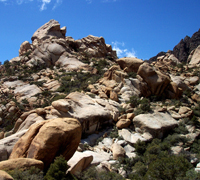 NPS Photo
Caruthers Canyon
Primitive camping, hiking, no signs or services.
About 5.5 miles west of Ivanpah Road on New York Mountains Road, then 2.7 miles north on an unsigned road, Caruthers Canyon is located in the rugged New York Mountains. Surrounded by mountains rising over 7,500 feet, a botanical "island" of chaparral plants remains from wetter times of the past. High clearance and four-wheel drive recommended.
Did You Know?

Park or preserve? Like other parks with the designation of "national preserve," Mojave National Preserve is managed under the same guidelines as national parks. The main difference is that hunting is allowed in national preserves, but not in national parks.