Kelso Depot Visitor Center hours

Kelso Depot Visitor Center is open Fridays through Tuesdays from 9 am to 5 pm, closed Wednesdays and Thursdays. The Beanery Lunch Counter is closed.
Cima Road
About 26 miles east of Baker, Calif., the paved Cima Road connects I-15 with Cima, Calif., 16 miles to the southeast.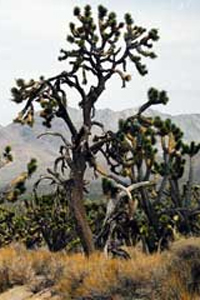 NPS photo
Cima Dome & Joshua Tree Forest
Self-guiding trail, no water.
The near-perfect symmetry of Cima Dome rises 1,500 feet above the surrounding desert and provides ideal habitat for the world's largest concentration of Joshua trees. Although the top of the dome is located west of Cima Road near the Teutonia Peak Trailhead, this unusual geologic feature is perhaps best seen from a distance. Try the view looking northwest from Cedar Canyon Road, 2.5 miles east of Kelso Cima Road.
Did You Know?

At about 600 feet in height, Kelso Dunes in Mojave National Preserve are the third tallest in North America. When quantities of the sands move, they sometimes create a booming sound. Run down the slopes to try to make the dunes boom. More...