Lower speed limits are temporarily in effect until road damage can be repaired

The Superintendent has temporarily reduced the posted speed limit from 55 mph to 45 mph on all roads within the preserve as road crews work to repair damage from recent heavy rains. Call 760 252-6108 for more information.
Watch for storm damage on all roads

Recent storms have caused flash flooding and damage to roads. Reduce speed and use caution when traveling through the park after storms. Call 760-252-6100 or 760-252-6108 for updates. Check our Current Conditions page for information on specific roads. More »
Cima Road
About 26 miles east of Baker, Calif., the paved Cima Road connects I-15 with Cima, Calif., 16 miles to the southeast.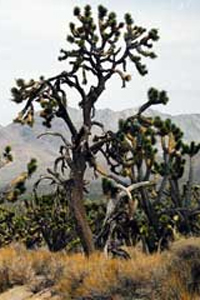 NPS photo
Cima Dome & Joshua Tree Forest
Self-guiding trail, no water.
The near-perfect symmetry of Cima Dome rises 1,500 feet above the surrounding desert and provides ideal habitat for the world's largest concentration of Joshua trees. Although the top of the dome is located west of Cima Road near the Teutonia Peak Trailhead, this unusual geologic feature is perhaps best seen from a distance. Try the view looking northwest from Cedar Canyon Road, 2.5 miles east of Kelso Cima Road.
Did You Know?

Mojave National Preserve is a great place to explore by 4-wheel drive vehicle. Over a thousand miles of dirt roads are open for exploration. Driving off-road is not allowed. More...