Change in Operation Hours & Seasons

Moores Creek National Battlefield will be changing its operating hours starting November 24, 2013. Pleas see Operating Hours & Seasons for more information.
Laws & Policies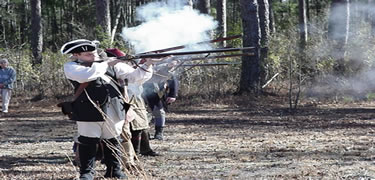 Mocr
FIREARMS REGULATIONS
As of February 22, 2010, a new federal law allows people who can legally possess firearms under applicable federal, state, and local laws, to legally possess firearms in this park. It is the responsibility of visitors to understand and comply with all applicable state, local, and federal firearms laws before entering this park. As a starting point, please visit our state's website "click on image" Federal law also prohibits firearms in certain facilities in this park; those places are marked with signs at all public entrances.
The following information is designed to answer the most common questions regarding what is permitted during your visit to the battlefield. This list is not inclusive of every law and regulation. If you have questions, please contact a Park Ranger or call us at our visitor center: (910) 283-5591
The purpose of the following laws and regulations is to ensure the historic integrity of the park; to honor those men who fought and died on this battlefield as well as to ensure preservation of the park resources for the enjoyment and enrichment of present and future generations.
Did You Know?

Flora MacDonald's husband, Allen, fought as a loyalist at the battle of Moores Creek. Flora won fame assisting "Bonnie" Prince Charles to escape Scotland after the Battle of Culloden in 1746. She disguised the prince as a maid servant and rowed him to the Isle of Skye.