For Kids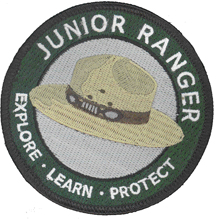 Junior Ranger booklets are available free of charge for children up to 14 years of age. By completing the activities in the booklet and reciting the Junior Ranger Pledge, kids are awarded a special badge that identifies them as official Junior Rangers for both Montezuma Castle and Tuzigoot National Monuments.
Be sure to ask a park ranger at the Montezuma Castle and Montezuma Well visitor centers for further details on the program and to receive your free booklet.
A national online Junior Ranger program, called Web Rangers, is available to people of any age at www.nps.gov/webrangers/
Did You Know?
This beautiful white-barked tree is a favorite of visitors to Montezuma Castle National Monument. It is the Arizona Sycamore and was important to the Sinagua as well: the beams which you can see sticking through the walls of the Castle are original, placed about 800 years ago.