Meet the Social Media Team
Have you ever wondered who's behind the initials in parenthesis after each and every post we share? Meet our social media team and the people who bring Montezuma Castle National Monument to you where ever you are, around the world.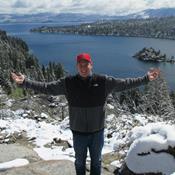 (jf)
Being outdoors has been a passion of Jason's for as long as he can remember. It all started when his father, a wildlife biologist and outdoor educator in Connecticut, would take him along on his programs as a toddler. As Jason got a little older his grandfather would take him to the forests of New Hampshire and he has not looked back since. He combined this passion for the outdoors with an intense interest in history to pursue a career in museum education. Jason has worked at Saint Gaudens National Historic Site in New Hampshire and also spent time with the Connecticut State Parks as well as at the Intrepid Sea, Air, and Space Museum in New York City prior to heading southwest to Arizona.
Jason still enjoys the outdoors and is an avid hiker and camper. When not working he also enjoys playing his bass guitar, reading, and exploring new areas. If you see Jason in the park please feel free to ask him any questions. He likes nothing better than sharing his knowledge and passion for the history of the Castle and the surrounding area with people of all ages.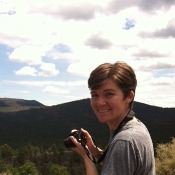 (lb)
Laura has been involved with environmental and natural history education since 2008. She began her career on Catalina Island working for a camp that taught students to conserve and respect their natural resources. After graduating from the Park Ranger Training Program at Northern Arizona University, Laura started her National Park Service career in May of 2013 here at Montezuma Castle and Tuzigoot National Monuments.
Laura loves insects. If you find a cool insect on the trail, Laura wants to know about it (please just take a picture, Laura doesn't like to disturb them in their natural habitat). She also has a degree in agriculture, so if you want to talk about how farming is one of the most important developments in human history, she'd be up for that too. At home, Laura likes to cook, exercise, garden, hike, and take photographs of insects (did we mention she likes insects?).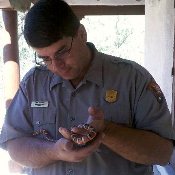 (cg)
Case began his National Park Service career in 2003 as a volunteer and later park guide at San Antonio Missions National Historical Park. Montezuma Castle holds a special status for Case: in 2004, it became the first cliff dwelling he would ever behold. After six more years in Texas, he returned to the Castle for a longer stay and is now entering his fourth year as the park's lead interpretive ranger.
At work, Case enjoys organizing cultural demonstrations, evening flute concerts, and star parties. He also designs museum and trail exhibits, works on park publications, and leads the volunteer program. In his downtime, Case likes to travel—especially to national parks. He also likes hiking, learning, drawing, stargazing, science fact, and science fiction.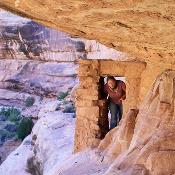 (sh)
Sharlot didn't camp out until after her 18th birthday. Since then she's been hooked on all things outdoors! She has worked for MOCA (Montezuma Castle) and TUZI (Tuzigoot) since 2009, when she returned to her beloved home state of Arizona. Before that she explored the nature and cultures of Madagascar and Oregon. Now she loves to hike with her two dogs and husband, when she's not on the trail or leading the summer Junior Ranger camps at Montezuma Well. She also recently went back to school, deciding that she should get a master's degree to further focus her NPS career in archives and archeology.
Most of all, Sharlot likes finding out new things! So if something amazes you about our parks, let her know by posting it! If you still have an unanswered question after leaving, ask it on Facebook! She wants to stay connected with you.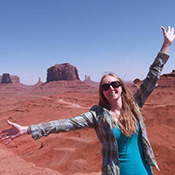 (km)
Krystina has been working at Montezuma Castle since 2011. She began as a Student Conservation Association intern and became an employee through the Pathways Program for students in 2012. Krystina is currently a Master's candidate at Northern Arizona University. Her interests include Southwest archeology and public education. When she isn't working as a park ranger, she enjoys knitting and spending time with her bearded dragon Arnold.
Krystina previously interned with the Flagstaff Area National Monuments (Wupatki, Sunset Crater, and Walnut Canyon) and is an avid supporter of the Junior Ranger program. She has earned badges from at least 26 parks, so far...