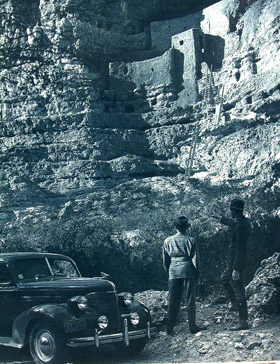 NPS Image
Many of these early tourists took artifacts from the site as souvenirs or carved their names on masonry walls and roof beams. Some looters went so far as to dynamite walls in their search for valuable antiquities.
But there were also scholars and concerned citizens who realized that the structure could not sustain the kind of damage caused by both vandals and careless tourists. Their concern eventually reached the desk of President Theodore Roosevelt who, in late 1906, established Montezuma Castle as one of America's first national monuments.


With its establishment as a National Monument, Montezuma Castle received increased attention and protection. Work was done throughout the 1920's and 1930's to restore and stabilize the ruin. However, annual visitation to the monument continued to rise, making the Castle more and more difficult to maintain.