THE HISTORY OF THE MEMORIAL

In 1996 Congress authorized the Alpha Phi Alpha, Dr. King's fraternity, to establish a Memorial to him in Washington, D.C. The Martin Luther King, Jr., National Memorial Project Foundation held a competition for the design and identified the Tidal Basin site. In 2010 construction began, and the Memorial was dedicated on August 28, 2011, anniversary of the March on Washington and Dr. King's "I Have a Dream" speech.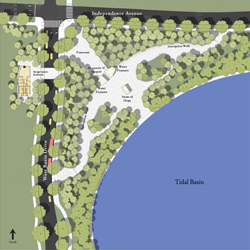 McKissack & McKissack
THE MEMORIAL AS PARK AND LANDSCAPE
The site's location is all important. The Martin Luther King, Jr. Memorial enhances the core of the magnificent "city beautiful" that Peter L'Enfant envisioned in 1791 and the McMillan Plan expanded in 1901. The common goal was to create an entire city to remind us "what we should be trying to achieve as a nation, as a society, as human beings on this planet." The new Memorial sits on the axis from Lincoln Memorial, where Dr. King gave his "I Have a Dream" speech, a defining moment in the dissemination of his message, to the Thomas Jefferson Memorial, inscribed in relief with the as-yet unfulfilled "promissory note" of the Declaration of Independence: freedom and equality for all. The Martin Luther King, Jr. Memorial stands as one of the great pillars in the nation's journey towards its goal.
The first, Washington National Monument, represents the Revolution's establishment of the nation's universal ideals; the second, the Thomas Jefferson Memorial, the values of self- government; the third, Lincoln Memorial, the will to achieve a more perfect vision; the fourth, the Franklin Delano Roosevelt Memorial, the restoration of world harmony by perseverance and courage, now with a United Nations and Universal Declaration of Human Rights.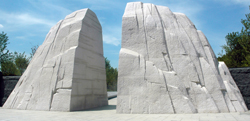 NPS
OUT OF THE MOUNTAIN OF DESPAIR… A STONE OF HOPE
Each Memorial component holds its own unique significance. From the looming Mountain of Despair, a Stone of Hope surges forward as the focal point for the memorial. Captured in a moment of reflective thought, the figure of Dr. King, sculpted by renowned artist Master Lei Yixin serves as the forward element of the Stone of Hope. The detachment of the Stone of Hope from the Mountain of Despair reflects not only victory borne from disappointment, but allows the visitor a clear view of the Thomas Jefferson Memorial which reflects the principles of freedom and liberty which gave birth to the nation. A wall of quotes, representing Dr. King's ideals of hope, democracy and love, flanking the Mountain of Despair and encircling the Stone of Hope.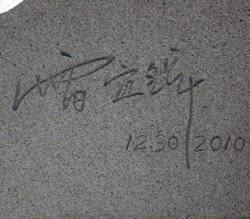 NPS
THE ARTIST

Master Lei Yixin, Sculptor of Record, a national treasure of China, crafted the portrait of Martin Luther King, Jr. from a unique white granite with color inclusions, found only in China.