Urban Wilderness Canoe Adventures (UWCA)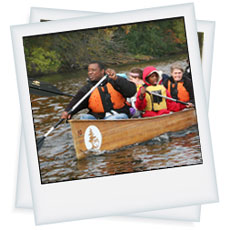 The Urban Wilderness Canoe Adventures (UWCA) is an outdoor canoe program focused on getting Twin Cities youth on the Mississippi River. Each UWCA trip provides students an opportunity to uniquely experience the Mississippi River while strengthening their outdoor skills and encouraging an active lifestyle outdoors.
In its pilot year, the UWCA has gotten over 4,500 youth outdoors and on the river. The goal for the program is to reach over 10,000 youth and family annually, with an emphasis on reaching students from Minneapolis and St. Paul Public Schools and other youth and community-based organizations.
The UWCA is a partner program between Wilderness Inquiry, Mississippi River Fund and the National Park Service. To find out more about the program or to enroll in a trip, visit Wilderness Inquiry.
Did You Know?

At Lake Onalaska, near LaCrosse WI, the Mississippi River is about 4 miles wide. The combination of water held behind Lock and Dam #7 and water held by damming the Black River form this broad reach of the Mississippi River.