MRC Map 10: St. Anthony Falls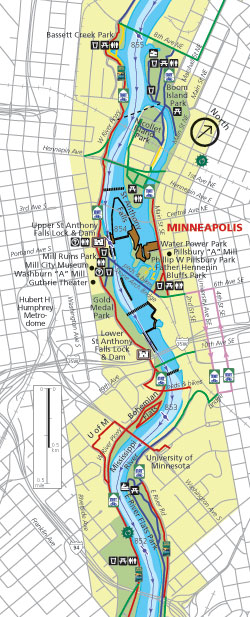 River mile 855 - 852

More than a dozen bridges span this stretch of river, connecting numerous bike and pedestrian trails. Most are open to bicyclists. Several interesting footpaths stay closer to the river than the bike paths, such as along the west bank (854.8 W) across from Boom Island Park (no longer an island) and on the east bank (853.7 E) upstream from the Stone Arch Bridge (853.9).
In the mid-to-late 1800s, millers harnessed the power of St. Anthony Falls (854) to build a huge flour-milling industry along the river. The city of Minneapolis offers trolley tours of this historic district.

The car-free Stone Arch Bridge has a great view of the falls and the river, as does Water Power Park. The falls were rapidly eroding upstream until the Army Corps of Engineers stabilized them. The Upper St. Anthony Falls Lock raises and lowers boats 49 feet between the top and bottom of the falls. In its natural state, the foot of the falls was a rocky rapids, but the Lower St. Anthony Falls Lock and Dam (853.5) and Lock and Dam 1 (847.6) hold water levels deep enough to maintain river shipping.
Boaters on this stretch should keep an eye out for dams, locks, bridge piers, commercial traffic, and a waterfall.
| | | |
| --- | --- | --- |
| River Mile | Latitude | Longitude |
| 855 | N 44.992895 | W 93.272840 |
| 854 | N 44.981081 | W 93.257732 |
| 853 | N 44.975824 | W 93.239553 |
| 852 | N 44.968072 | W 93.229922 |