MRC Map 25: Vermillion River - South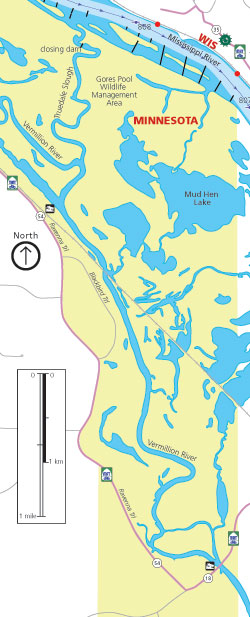 River mile: 808 - 807
The Vermillion meanders through a tangle of forests, wetlands, sloughs, and streams. It enters the Mississippi (795.5 W) below Lock and Dam 3, just upriver from Red Wing, Minn.
Gores Pool Wildlife Management Area consists of 6,449 acres of floodplain forests and backwater marshes that are popular with birdwatchers and hunters.
The next boat landing on the Mississippi River downriver from Prescott, Wis., (811.2 E) is at Diamond Bluff, Wis., (799.9 E).
Note that this map is at a larger scale than most of the other maps.
| | | |
| --- | --- | --- |
| River Mile | Latitude | Longitude |
| 808 | N 44.721435 | W 92.746605 |
| 807 | N 44.712732 | W 92.730388 |