MRC Map 24: Vermillion River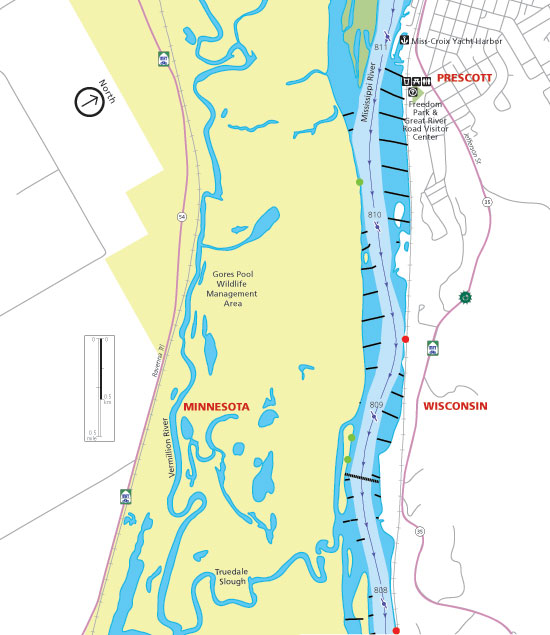 River mile: 811 - 809
The Mississippi hugs the foot of the Wisconsin bluffs here, while the tiny Vermillion River runs along the base of the bluffs on the Minnesota side. Between them lies a vast floodplain forest with many wetlands, backwater areas, and old oxbow channels.
The Vermillion River is small in comparison to the Mississippi River, which is attractive to many paddlers. It is also popular with fishermen and birdwatchers. Check water levels before you go and beware of closing dams on the channels. They are dangerous in high water. The Minnesota Department of Natural Resources maintains two boat launches.
Ravenna Trail (Highway 54) and Wisconsin Highway 35 provide scenic rural stretches for driving and biking the MRT.
High above the Mississippi River in Prescott, Wis., is the Great River Road Visitor Center, which offers exhibits, information, and outstanding views of the Mississippi and St. Croix rivers.
| | | |
| --- | --- | --- |
| River Mile | Latitude | Longitude |
| 811 | N 44.742724 | W 92.797478 |
| 810 | N 44.735012 | W 92.780860 |
| 809 | N 44.727756 | W 92.763978 |
| 808 | N 44.721435 | W 92.746605 |