MRC Map 19: Upper Grey Cloud Island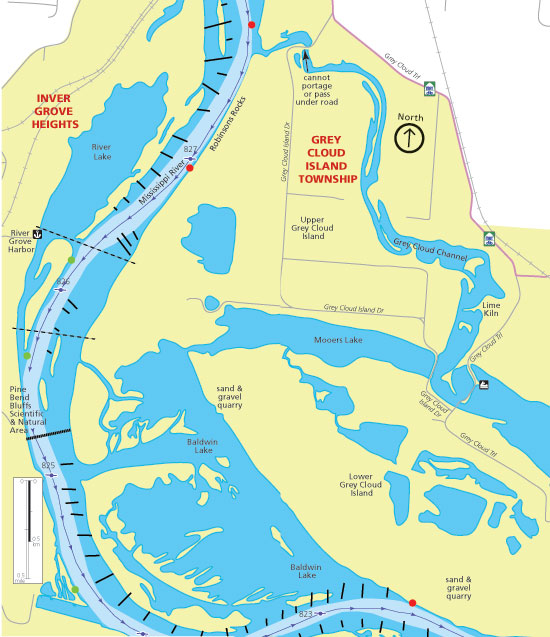 River mile: 827 - 825
With towering bluffs in the background and complex backwaters to explore, this reach resembles areas a hundred miles downriver.
River Lake is a good place to watch white pelicans in the spring and fall.
The rocky bluffs along the shore of Upper Grey Cloud Island are named after Jane Muckle Robinson, who tended the navigation lights on this stretch of the river from 1885 to 1921.
Grey Cloud Channel (827.6 E) is an interesting backwater to explore. However, the channel does not connect Mooers Lake and the Mississippi River, because a road blocks the upper end of the channel. It cannot be portaged without trespassing on private land.
Visit Pine Bend Bluffs Scientific and Natural Area to get a great view of Upper and Lower Grey Cloud Island. Exit highways 52/55 on 117th St. E. Take 117th St. E. east to the service road. Follow the service road north to 111th St. E. Park and walk east on 111th St. E. to the end. Follow the path to the right.