MRC Map 17: South St. Paul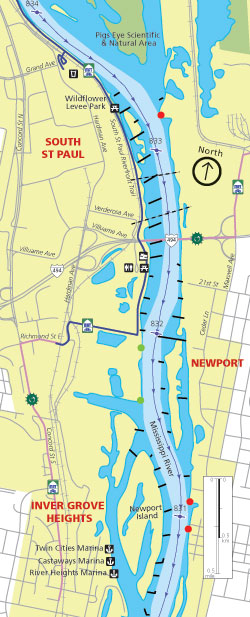 River mile: 833 - 831
A levee and a recreational trail follow the river in South St. Paul, where stockyards once existed along the river upstream from the Wakota (1-494) Bridge (832.4). At one time South St. Paul was home to the largest stockyards in the world.

Below the Wakota Bridge the river turns natural again. This is a great place to watch for bald eagles, pelicans, and shorebirds.
After following the South St. Paul Riverfront Trail and the levee along the west side of the river, the Mississippi River Trail moves inland to follow Concord Street South.
On the east side of the river, the Mississippi River Trail follows Highway 61 to Cottage Grove, where it cuts southwest to follow Summit Avenue through St. Paul Park to Pullman Avenue (map 18).
| | | |
| --- | --- | --- |
| River Mile | Latitude | Longitude |
| 833 | N 44.889473 | W 93.018574 |
| 832 | N 44.875740 | W 93.014830 |
| 831 | N 44.862358 | W 93.008663 |
Did You Know?

At Lake Onalaska, near LaCrosse WI, the Mississippi River is about 4 miles wide. The combination of water held behind Lock and Dam #7 and water held by damming the Black River form this broad reach of the Mississippi River.