MRC Map 9: Riverside Power Plant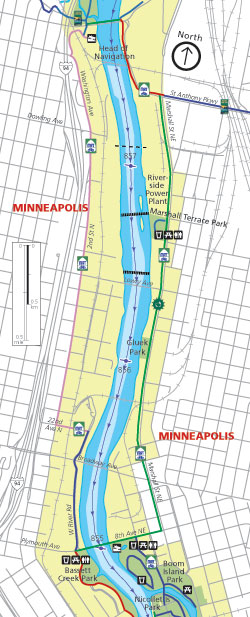 River Mile: 857 - 855

This is an industrialized reach of river, although much of that industry is dwindling and the land is gradually being converted to parks, trails, and housing.
The Head of Navigation (857.6), downriver from the Canadian Pacific railroad bridge, marks the point in the river at which the Army Corps of Engineers starts maintaining a minimum nine-foot-deep shipping channel. The system of 29 locks and dams is necessary to maintain the nine-foot channel to near St. Louis, where the natural river becomes deep enough to float loaded barges.
The trails on both sides follow increasingly urban streets until they pass the Eighth Avenue (Plymouth Avenue) Bridge (855), after which they follow trails, mostly through parks and parkways through downtown Minneapolis.
Running since 1911, the Riverside Power Plant was the oldest continuously operating coal-burning plant in the United States. It replaced a power plant that was destroyed in an explosion near St. Anthony Falls. It was built in 18 weeks using horse-drawn equipment. Xcel Energy converted the plant from coal to natural gas in 2009 as part of its efforts to cut emissions from coal-burning power plants in the Twin Cities. The conversion has substantially reduced the plant's sulfur dioxide, nitrogen dioxide, mercury, and particulate emissions. The plant's reduction of carbon dioxide emissions is equivalent to taking 600,000 cars off the road.
| | | |
| --- | --- | --- |
| River Mile | Latitude | Longitude |
| 857 | N 45.021979 | W 93.277695 |
| 856 | N 45.007302 | W 93.274131 |
| 855 | N 44.992895 | W 93.272840 |