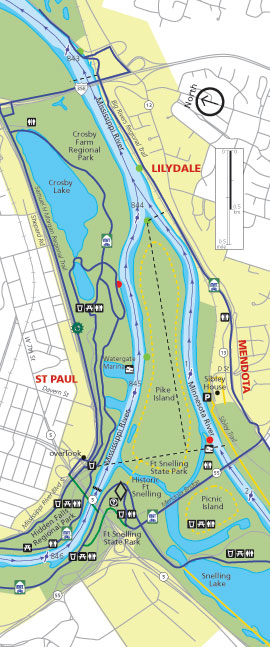 River mile: 846 - 844
In this stretch, the Mississippi swallows up the­ ­turbid waters of the Minnesota River. Downstream from Pike Island (844.8 W) you can sometimes distinguish the brown water coming from the ­Minnesota River until eventually the two rivers completely intermingle. Hundreds of acres of public lands and many miles of trails occupy the floodplain forest here, providing opportunities for viewing wildlife, hiking, biking, or for an urban river boating experience.
Historic Fort Snelling (845.5 W), once the seat of military power in the West, crowns the blufftop overlooking the confluence. Originally built in 1825, the restored fort is operated by the Minnesota Historical Society.
Pike Island is named after Lieutenant Zebulon Pike, who in 1805 purchased land from the Dakota for a U.S. fort on the bluff. The Dakota called it Wita Tanka. The island and much of the land near the fort and on the Minnesota River is part of Fort Snelling State Park. The island's pedestrian trail is popular with birders and wildlife watchers. The island's backwater channel can flow in either direction.
Trails and a road link Crosby Farm Regional Park (842.3 to 845.4 E). Crosby Farm Park's trails meander near two small backwater lakes and through floodplain forests.
(845.4 to 847.4 E) with
The Big Rivers Regional Trail follows the west bank of the river through floodplain forests. It is one of the most scenic rail trails in the country and offers spectacular views of the confluence of the Minnesota and Mississippi rivers.

Note that the river flows to the northeast here, so the east side (bank) is on the left side of the map and the west side (bank) is on the right.
Download this map (PDF).
Map Index

Next Map (Minnesota River Upstream)
Next Map (Mississippi River Downstream)

| | | |
| --- | --- | --- |
| River Mile | Latitude | Longitude |
| 846 | N 44.896398 | W 93.189096 |
| 845 | N 44.893741 | W 93.169215 |
| 844 | N 44.897643 | W 93.150983 |