MRC Map 16: Pigs Eye Lake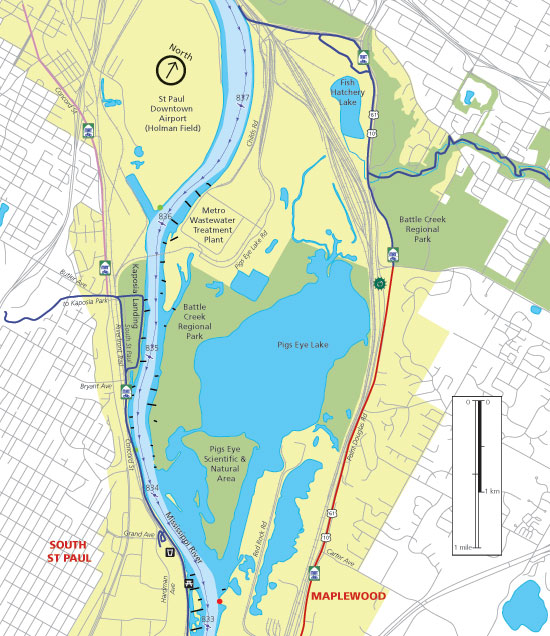 River mile: 837 - 834
Beyond the airport and wastewater treatment plant is Kaposia Landing (834.8 to 835.7 W), an 85-acre park named after a Dakota village that was at this site.
Looking north from the river you can see the skyline of downtown St. Paul hanging above the river, but as you continue south, the city view disappears and gives way to natural floodplain forests, islands, backwaters, and some of the most diverse bird life found anywhere on the river. Pigs Eye Scientific and Natural Area (834 E) contains a large heron rookery and is closed during bird nesting season (spring/summer). This rookery is the Upper Midwest's largest and most diverse colonial nesting site. In addition to great blue herons and great egrets, little blue herons, black-crowned and yellow-crowned night herons, and double-crested cormorants nest in this area.

Pigs Eye Lake is full of aquatic plants and waterfowl, and is a nice diversion from the main channel.
The Mississippi River Trail skirts the border of Battle Creek Regional Park then follows Point Douglas Road.

Note that this map is at a different scale than most of the other maps.
| | | |
| --- | --- | --- |
| River Mile | Latitude | Longitude |
| 837 | N 44.935687 | W 93.050495 |
| 836 | N 44.921715 | W 93.051860 |
| 835 | N 44.909676 | W 93.044166 |
| 834 | N 44.898084 | W 93.033990 |